Seating chart is not selected.
Strictly follow COVID19 health protocol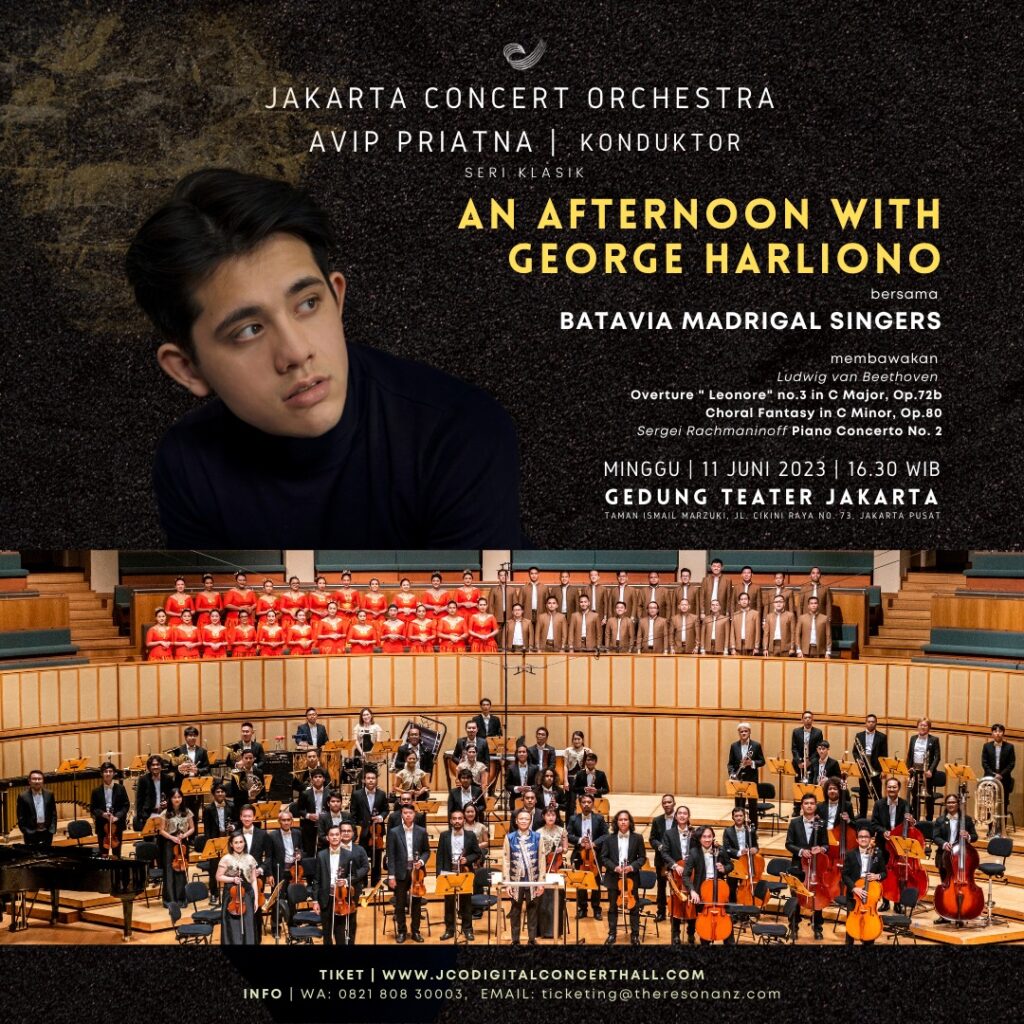 JAKARTA CONCERT ORCHESTRA
AVIP PRIATNA, Konduktor
mempersembahkan
AN AFTERNOON WITH GEORGE HARLIONO
bersama
BATAVIA MADRIGAL SINGERS
George Harliono adalah pianis muda asal Inggris yang karirnya sangat cemerlang. Pianis yang mempunyai darah Indonesia ini pernah memenangkan beberapa kompetisi antara lain The Grand Piano Competition di Moscow, Sendai International Music Competition, Royal Overseas League Music Competition di London, Gina Bachauer Piano Competition di Utah, Concourse International de Lagny-sur-Marne and Dinu Lipatti Piano Competition di Bucharest.
Tahun ini merupakan pertama kali George akan tampil di tanah kelahiran Ibundanya. Berkaitan dengan peringatan 150 tahun kelahiran Rachmaninoff, George bersama Jakarta Concert Orchestra di bawah pimpinan Avip Priatna akan menampilkan Piano Concerto No. 2 yang merupakan salah satu konserto piano terindah.
Selain itu George juga akan berkolaborasi dengan pemenang The European Grand Prix for Choral Singing 2022, Batavia Madrigal Singers, membawakan salah satu karya besar Ludwig van Beethoven, Fantasy untuk Piano, Paduan Suara dan Orkestra. Sebuah konser yang menampilkan artis kelas dunia dengan program yang penuh cita rasa yang pastinya akan memberikan pengalaman luar biasa bagi penontonnya.
Program
Ludwig van Beethoven
Overture "Leonore" No. 3 in C Major, Op.72b
Choral Fantasy in C Minor, Op.80
Sergei Rachmaninoff
Piano Concerto No. 2
Minggu, 11 Juni 2023
16.30 WIB
GEDUNG TEATER JAKARTA
Taman Ismail Marzuki, Jl. Cikini Raya No. 73, Jakarta Pusat
Dapatkan tiketnya sebelum kehabisan !
JCODigitalConcertHall.com
INFO
wa.me/+6282180830003 ;   email : ticketing@theresonanz.com